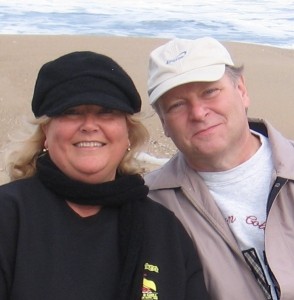 Kathy Costello – Wedding Officiant, Non-denominational Minister and Gardener at Costello Wedding Ceremonies
Phil Costello – Designer and Manager of Costello Wedding Ceremonies Gardens and Structures
We were married in Las Vegas on July 4, 2005.  Being in the 'seasoned' part of our lives, and both of us having been married before, we feel extremely fortunate to have met our true love!
We love to travel and have fun.  A chalk board in our kitchen has only ever had two words written on it … 'Forever Honeymoon'.  And that is definitely the way that we live our lives as a married couple, on vacation as well as at home every day!
The happily-ever-after lives
When we moved into our Colonial home in Clayton, which was built in 1850, it was a blank tapestry, ready to paint a scene where couples could feel like they were walking into a dream or a fairy tale, into their own 'happily ever after'.  Yes, we believe in true love.   Your hopes and dreams and your ceremony is what we want to see for you, as well.   We believe that when you are pronounced husband and wife for the first time, the blessing of our own 'forever honeymoon' is passed on to your new life together.
Whether it's your wedding, a celebrated vow renewal or commitment ceremony,  or if you just decided to Get Hitched Quick – or having a blessing or christening for your new baby … we want to help you create a memory that will last the rest of your life.
We do our best to create a garden ceremony that you and your family will treasure.  Because it's built with love, we make our gardens available to you, at no extra charge, 365 days a year.  And, in case of inclement weather, the parlor of our home is also available.  Having you here is truly a blessing to us and keeps that 'forever honeymoon' in our hearts.
Wedding Officiant & Services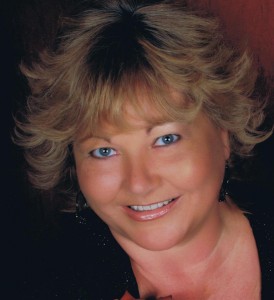 Ordained since 1996, and a certified New Jersey wedding officiant, I specialize in making the most important part of your day romantic, unique … and very memorable.  Whether it's your dream wedding, a Second-time Around Wedding, a special Vow Renewal for your 5th, 10, 25th anniversary, Commitment ceremony, Baby Blessing, or if you just decided to Get Hitched Quick, I'm here to help you bring about your vision and be your guide to creating your vows and the ceremony of your dreams!
You may be asking, 'What is a Wedding Officiant?'  Other terms for wedding officiant include minister, clergy, wedding official, celebrant.  According to Wikopedia,  Wedding Officiant 'includes Justices of the Peace, celebrants, notaries, and other people empowered by law to perform legally-binding private ceremonies'.  A Wedding Officiant is a civil officer who performs acts of marriage or civil union.
Wedding Officiant and Our Garden Ceremony Venue
I can definitely join you at the venue of your choice, here in the tri-state area surrounding South Jersey.  But, if you are in need of a venue for your event, smaller and more intimate ceremonies can be accommodated in our garden or in the parlor of our 1850 Colonial home at no extra charge, 365 days a year, with our Wedding Officiant services.
Why spend a fortune on a ceremony venue when there is nothing else like this in the area!
To help save you the cost of renting a venue for your ceremony, we offer our Gardens & Parlor for use with our Wedding Officiant services.  We have lots of photo-op areas, which Phil and I designed, tend to ourselves, and welcome you to stay after your ceremony for pictures … even bring a professional photographer with you!  We also have a Bridal Dressing Room available, at no extra charge.
We've had couples come in sunshine, at dusk, during blizzards and rain, in 19 inches of snow, during every season of the year.
But our Parlor is ALWAYS available when the weather is less than cooperative!
What's Included?
Our ceremonies always include:
Certified Wedding Officiant and Ordained Minister
Our e-book, 'Ceremony Selections', free of charge
Romantic Ceremony

Unlimited email and phone calls
And unless you have decided to 'Get Hitched Quick' … our ceremonies also include:
An initial consultation

Your choice of ceremonies, readings and other add-ons

Unlimited number of guests

Creation and Performance of ceremony, including any additional selections

Your choice of beautiful and unique display certificates
[important]
Call us to schedule a free consultation
7 days a week – 10am to 7pm
856-226-3174
[/important]