Call us at 856-226-3174 for your free consultation!
    
*¨*❤*¨*•❤*¨*•❤*¨*•❤*¨*•❤*¨*•❤*¨*•❤*¨*•❤*¨*•❤*¨*•❤*¨*•❤*¨*•❤*¨*•❤*¨*❤*¨*
If you decide to have Rev. Kathy perform your ceremony,the Garden and Parlor are available to you …

any time of year!
Please feel free to schedule an appointment to take a look at our Gardens or Parlor located in Clayton, New Jersey.
Take a peek at Bill and Stephanie's wedding on July 4, 2013 …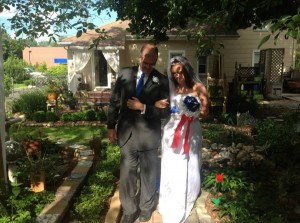 Stephanie and her father begin on the
Wedding Walkway …
Then, walking under the Arbor,
through the Wedding Garden,
and into the Courtyard … she meets Bill, where they exchange vows …
and rings …..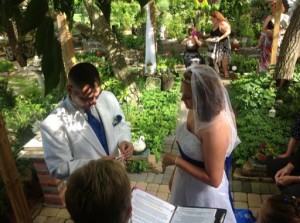 a special rose to create a memory …  …  …  and a kiss to seal their promises!
Then they roam the gardens with their guests for some pictures to remember their special day!
Your guests can watch your ceremony from our pergola, which overlooks the entire gardens.  It's also a great photo op!
  
and our Kissing Bench is the talk of the town!
 

Stepping stones lead you
to other beautiful and lush spots for unique pictures.
And there are plenty of areas for you and your guests to sit and relax as you take advantage of the opportunities to capture those special moments!
Call 10am to 7pm, 7 days a week 856-226-3174 or 856-777-4510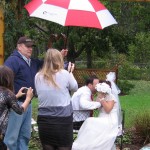 Unfortunately, the weather just doesn't always cooperate for a garden ceremony, but if you want pictures in the garden, you'll get pictures in the garden!  We can even light it up for evening pictures.
But you can stay warm and dry in the parlor, where a small ceremony is performed at the mantle with a special candle ceremony, if you'd like.  And remember, we're available even on holidays, if you want to marry your Valentine, make Christmas extra special this year … or even ring in the New Year with a kiss!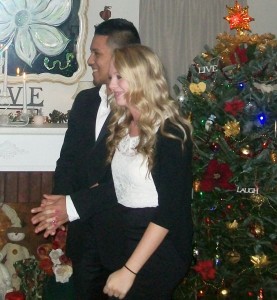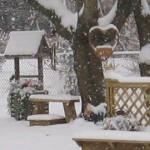 When the weather is warm and the wisteria is in full bloom or even in the winter when the vines are covered in snow!
Several areas within and around the courtyard create a special garden ceremony. 
You may want to celebrate as a couple, as a family with your parents or as a way to involve your children.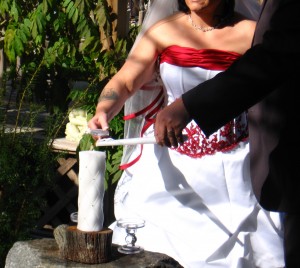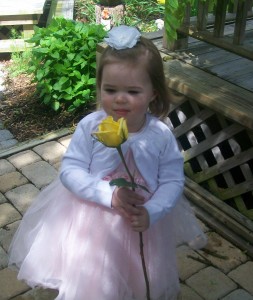 You may want a Unity Candle, Blending of the Sands, or a Rose Ceremony.  These are all also available and very beautiful for a Baby Blessing!
Call 10am to 7pm, 7 days a week 856-226-3174 or 856-777-4510
❤•*¨*•❤*¨*•❤*¨*•❤*¨*•❤*¨*•❤*¨*•❤*¨*•❤*¨*•❤*¨*•❤*¨*•❤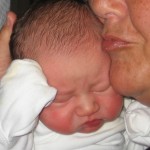 Vow Renewals
❤•*¨*•❤*¨*•❤*¨*•❤*¨*•❤*¨*•❤*¨*•❤*¨*•❤*¨*•❤*¨*•❤*¨*•❤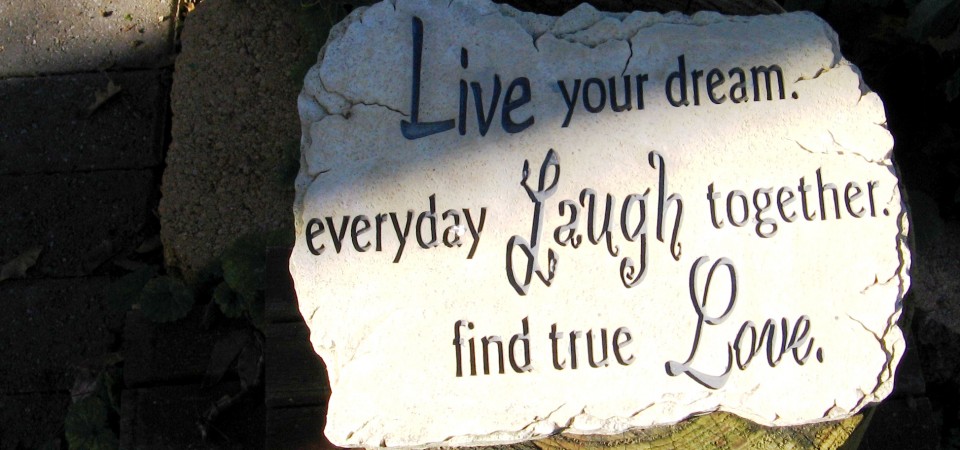 Celebrate your love with an ancient symbol …
Fire!
I'm sure you remember your very first kiss, which probably put sparks in your hearts.
Those sparks have grown into a fire that is bright and evident to all of those around you.
After you have had your first kiss as husband and wife, you may want to throw some flower petals, sage and other herbs from our garden into the fire in our fire pit, representing your part in keeping the spark and the fire in your marriage nourished, alive and blessed!
Offer your guests some flowers and herbs to also throw into the fire, as they send their good wishes for your future together into the heavens!
❤•*¨*•❤*¨*•❤*¨*•❤*¨*•❤*¨*•❤*¨*•❤*¨*•❤*¨*•❤*¨*•❤*¨*•❤
Call 10am to 7pm, 7 days a week 856-226-3174 or 856-777-4510
Please understand that we cannot reserve your date without a retainer.
A non-refundable retainer of $100.00 will hold your date and time.
We accept payment through PayPal as a convenience to you.
Please don't send payment before you confirm that we have your date available!
We also accept payment by check, money order or cash at the time of your scheduled consultation.
Call 10am to 7pm, 7 days a week 856-226-3174 or 856-777-4510