Call us at 856-226-3174 to arrange your free consultation!
Celebrate the miraculous arrival of your precious gift!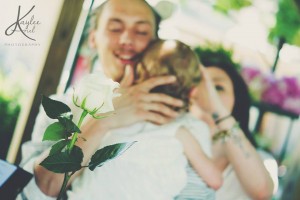 A Baby Blessing, also known as a baptism, a christening or a baby naming, this loving ceremony can be held in a hall, chapel, at the beach, right in your own home … OR … you are invited to have your celebration here in our gardens or parlor!
Sand or Candle ceremonies are often done to include other family members during the Baby Blessing.  You may also choose a blessing with a flower, oil or water … or any combination … and it's all included.
Surrounded by your closest friends and family, a Baby Blessing is a wonderful, spiritual event to welcome your new little one.
♥   ♥   ♥

A display certificate is also included with your ceremony! 
They are also available to purchase as a wonderful gift idea and a unique way to display that special day!
                                                                                  For your baby girl …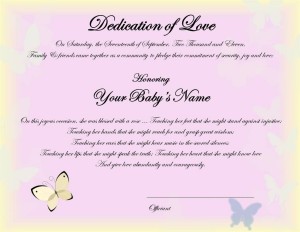 For your baby boy …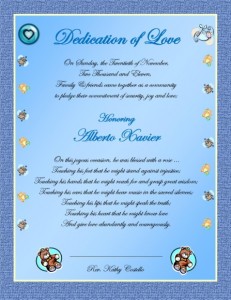 To purchase a Baby Blessing Display Certificate:
1.  Choose to have a .jpg file emailed to you or a printed certificate that will be mailed USPS; 2.  Choose your design (Baby Girl or Baby Boy); 3.  Enter the day – Sunday through Saturday (OPTIONAL) and the DATE of your wedding; 4.  Enter the first name exactly as you want it to appear; enter the second name exactly as you want it to appear; 5.  Choose the Signature line description. 6.  Click the 'Buy Now' button to be taken to PayPal where you can use your PayPal account or a credit card on their secure site.       * NOTE:  Although these certificates commemorate the blessing with a rose, your baby's certificate can be changed to reflect any ceremony that you choose.  Of course, we will go over this during your consultation, but if you are ordering and would like to change or add anything special, email me directly at
RevKathy@CostelloWeddings.com
or call me at
856-226-3174
. 
I am more than happy to personalize any certificate! 
Follow one of our very special Baby Blessings in our Gardens.
 

I had the honor of performing Bill & Stephanie's wedding …
and have them back here 2 years later to dedicate Bryanna and Jocelynne!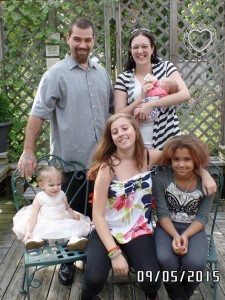 Congratulations and welcome to the family, Bryanna and Jocelynne!!
 … and to their very special, very blessed family!
Baby Blessing and Christening Service Fees
All ceremonies Include an initial consultation with choice of ceremonies and a beautiful display certificate.
♥

Garden Blessing- $200
This INCLUDES our garden or parlor as your venue and is a small, informal ceremony with up to
20 of your close family & friends.
♥

Garden Celebration – $300
This INCLUDES our gardens as your venue and is a special ceremony with as many guests as you like.  We have had up to 65 guests in our gardens, and our parlor is always available for inclement weather.  But please keep in mind that our parlor is small and can only hold about 25 – 30 comfortably.   
♥

Off-Site Baby Blessing- $350
Whether it be a park, a hall, a restaurant or your own home, this includes everything you need for your celebration, and our travel within *50 RT miles to your chosen location.
[/important]
*Please do not send any deposit or payment for an unconfirmed ceremony …
call first and make sure your date is available!
To make a payment by credit card or your PayPal account, click here to go to our PayPal page or request an invoice to be emailed to you.  A check or money order can be made payable to Rev. Kathy Costello and sent to:
260 S. Pearl Street, Clayton, NJ 08312
Choose Your Ceremony:
Baby's Full Name
Enter CONFIRMED date